Contact Information
Student Conduct
Plemmons Student Union
3rd Floor, Rm. 320
ASU Box 32084
Boone, NC 28608-2084

Phone: (828) 262-2704
Fax: (828) 262-4997
Quote of the Day:
Character is much easier kept than recovered.
~Thomas Paine

Safety Tip:
Use the Buddy System when walking on campus at night. (ASU Police 262 2150)
STUDENT CONDUCT
rights | respect | responsibility | education
Welcome to Student Conduct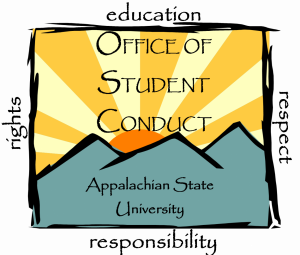 WE HAVE MOVED!! Our physical office has relocated to the third floor of the new addition of the Plemmons Student Union, Suite 320.
The purpose of this site is to educate and to make available the necessary information regarding expected conduct of the students of Appalachian State University, whether they be on or off campus.
---
---
Code of Student Conduct - KNOW THE CODE: ON & OFF CAMPUS
Here is an online copy of Appalachian State University's Code of Student Coduct. There is also included a printer-friendly version available.
Academic Integrity Code
Here is a copy of the university's Academic Integrity Code. There is a printer-friendly version also available.
All members of the campus community are expected to conduct themselves in a manner that does not infringe upon the rights of others. The University has a zero tolerance policy for any acts of sexual misconduct and related retaliation.
Presentation Request
This link will allow you to download the form needed to request a presentation through the Office of Student Conduct.
FAQs
For both students and parents.
Student Resources
Here are listed a number of resources to aid students better understand the Code of Student Coduct and the Academic Integrity Code as well as help educate them on the dangers of drug and alcohol abuse.
N.C. State Law
This covers the laws and regulations within the state of North Carolina concerning the conduct of its citizens.
Emergency Information
Important information for students and parents regarding emergency measures on campus.